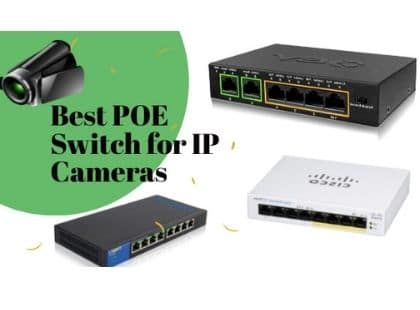 If your mind has made you look for the best POE switch for IP cameras, you are at the right spot. As the number of IP cameras grows, more and more people are looking for ways to connect multiple IP cameras to their home network. Often people think that all devices with an Ethernet jack are suitable for connecting IP cameras.
Best POE Switch for IP Cameras -Top 8 Picks in 2021
However, while some Ethernet switches may provide enough ports to connect many IP cameras to your home network, they will create a bottleneck and interfere with the performance of your network devices such as computers or wireless routers.
That is why it is essential to find a Poe switch that will support all your IP cameras and free up space on your other network devices. So, please make yourself comfortable, and let's have a look at our today's top choices today. Here I'll present several popular models to you and explain what ports and specifications they provide so you can determine which one will work best for you.
How to choose the best PoE switch for IP security cameras?
Before we go for our searched and highly recommended pieces, let's make you know how to choose the best POE switch for your IP cameras needs. Several factors will need to be specified before making the right choice, as they are given below. Therefore, please, have a look.
Managed vs. Unmanaged:
When planning a network, deciding what type of Switch will work best for you can be difficult. However, there are a few things to consider, such as the amount of power you need, managed/unmanaged capabilities, and how complex you want to make your setup.
For a small office, you might want a managed switch that will allow you to customize your router to fit your setup. This might be a bit more expensive, but you'll be able to get a lot more out of it.
For a home setup, you probably don't need a managed switch. An unmanaged switch will be OK for your needs and will be much cheaper.
Power efficiency:
PoE (Power over Ethernet) is a technology that allows PoE compatible devices to receive electrical power through an Ethernet cable. Used mainly by network devices, this technology is used to eliminate the need for dedicated power outlets.
When you connect your camera to the Switch, it can transmit power to the camera. There are two kinds of power that a switch can supply: passive PoE and active PoE. Standard PoE provides 15.4 watts at each port, while the latest version of PoE+ supplies 25.5W per port.
When you search for a switch, it's important to note whether Power over Ethernet is supported in the model you decide upon.
So, if you're designing a network that includes network cameras, you'll need to ensure you purchase a switch that has enough power to support the cameras you wish to install. If you choose a switch that can't support your cameras, your network will not work correctly.
Supply of Voltage:
Before installing your IP network camera, make sure you know what voltage it runs off. If the power supplied is incorrect, there is a chance that the camera will either not work at all or overheat and stop working altogether.
Most network cameras run using either 12V or 24V of power and require a separate DC-to-DC power supply module to convert voltages and support PoE (Power Over Ethernet) functionality.
Kinds of Ports and their selection:
Although it may go without saying, you will need to consider how many ports your Switch needs based on the number of devices you plan to connect to it. It's worth noting that although switches come in all different shapes and sizes, having more ports available for your use does not necessarily mean that you will get more power out of them.
Although switches can deliver a lot of power, typically given by a VOIPTEL certified CAT6/7 cable, they aren't infinite. Therefore, their total output capacity is often found well below the theoretical maximum value.
Ultimately, your choice of PoE switch must be determined based upon how many cameras you wish to connect and even if you require PoE+ (which requires an additional adapter).
Below I've included a few examples of PoE (or PoE+) enabled switchers with differing numbers of ports that may be suitable for your network setup.
Easy to install with easy plug and play:
Make sure that the Poe switch you will have must offer an easy installation with no effort configuration. It's something very typical to configure a POE switch with your camera or another device. Therefore, read some customer reviews and make the choice that must offer this featuring.
Speed of transmission:
Power over Ethernet switches is crucial for any IP camera installation, especially if the cameras are installed in remote areas with no nearby power outlets.
The last thing you want is for your installation to become compromised due to a lack of power or faulty network connectivity! Ideally, you will want a gigabit PoE switch that can quickly provide power and data to each of your IP cameras.
Gigabit-capable switches are fairly cheap nowadays, so it's not worth choosing a slower model unless it offers something special.
But what actually a POE switch is?
POE stands for Power Over Ethernet. A POE switch is a device that allows you to supply power to devices over an Ethernet cable. You can connect multiple devices to one POE switch, and power them all up simultaneously.
This is useful in many situations, like powering up CCTV cameras installed in hard-to-reach places or powering up wireless access points in areas with no power outlet.
Also, POE switches are indispensable in schools or offices, where installing power outlets is difficult.
List of Best POE switches:
NETGEAR 8-Port Gigabit Ethernet Unmanaged PoE Switch (GS308P)
For your best Poe switch for IP camera's needs, have a look at this top of the list one of the highly recommended choices. This Switch is easy to install and can save you time and money when upgrading your network infrastructure to support Power over Ethernet (PoE) devices.
The Switch features 8 gigabit Ethernet ports that offer high-performance, reliability, and ease of use with automatic detection of connected devices. Two ports support Power over Ethernet (PoE+) to deliver both power and data to devices such as wireless access points or IP cameras.
This best 8 port PoE switch for IP cameras delivers up to 53 watts of total available PoE to the four PoE+ ports, allowing you to power devices like IP cameras to help you stay aware of your home or business.
The Switch is compact, making it great for use in tight spaces, such as on a bookshelf or wall bracket. It also features a fanless design for quiet operation to help save energy.
The GS308P is plug-and-play out-of-the-box with no configuration required, and it can be mounted to a wall or placed on a desktop. Moreover, it comes with a power supply and cables for easy installation.
All in all, providing you ease and quality on a low budget with your demanded features, you are just one step away from the solution to your problem.
Pros:
✔ Available at minimum price
✔ Easy to install and use
✔ 8 Gigabit Ethernet ports
✔ Reliable and brings value for money
Cons: 
✖ You might have errors with the registration
Linksys Business LGS108P 8-Port Desktop Gigabit PoE+ Unmanaged Switch
Configure, monitor, and manage your network from a single control point with the LGS108P PoE switch. This 8 port PoE switch for IP cameras with 4 PoE Ports helps you to easily connect and power network devices such as IP phones, wireless access points, and IP cameras.
It supports auto MDI/MDI-X for easy connection and the eight Gigabit ports provide speeds up to 1000 Mbps. It provides a 4 port PoE switch for IP cameras that gives easy connectivity to most of your IP cameras and other devices.
Its power over Ethernet (PoE) technology helps you simply connect to and power devices such as IP phones and wireless access points without an extra power adapter.
With this best PoE switch for relink camera, an integrated Web interface provides a familiar point of access for everyday tasks. In contrast, a command-line interface is available for sophisticated configuration and troubleshooting. This 8-port gigabit switch delivers the performance and security features you need to keep your network running efficiently.
The switching capacity is 128 Gbps and supports a maximum of 250,000 packets per second. The Cisco Catalyst 8-Port Gigabit Switch with 4-Port PoE helps ensure that your business operates smoothly every day.
Pros:
✔ Easy to configure and install
✔ Capacity over 128 Gbps
✔ 8 ports with 4 PoE ports
✔ Best for business and everyday use
Cons:
✖ doesn't have a rack mount ears facility
TP-Link TL-SG1005P V2 | 5 Port Gigabit PoE Switch
The TL-SG1005P is a 5 POE-port gigabit Ethernet switch with robust performance and advanced features. Due to the integrated IEEE 802.3af compliant PoE technology, this Switch provides power for your IP or other Ethernet-based surveillance system camera.
This plug-and-play Switch includes 4 x 10/100/1000Mbps Auto-Negotiation RJ45 ports and 1 x 1000Mbps Auto-Negotiation SFP slot and is convenient for network integration and management.
This is a great solution for expanding your network where power outlets are limited. The box includes a power adapter and a power cord that will make it a great deal.
With its easy plug-and-play design, the Switch automatically detects the power requirements of connected devices and provides the appropriate power supply. So, you can spend less time configuring and more time using it.
This best 5 port PoE switch supports IEEE802.1Q VLAN and IEEE802.3x Flow Control for full-duplex operation and features IGMP Snooping and Denial-of-Service (DoS) attack prevention.
Moreover, the Switch is designed to reduce the total cost of ownership while enhancing your Return on Investment.
Pros:
✔ Easy plug and play
✔ Flexible with 5 POE ports selections
✔ Advanced featuring
✔ Budget-friendly
Cons:
✖ Upgradation up to 1GB per second can handle only one device
Aumox 18-Port Gigabit Network Unmanaged Switch
Don't you want more ports in a single device for connecting multiple devices such as cameras and others on the same Switch? Yes, you do! So have a look at this 16 port PoE switch for IP cameras with 2 ethernet ports.
When you need to manage multiple PoE camera systems, the Aumox 18-port PoE switch provides an efficient solution. This features 16 PoE ports, 2 Gigabit uplinks, and 250W of power. With 10/100/1000Mbps connections, the 16+2G switch is ideal for homes and small offices.
The 19″ rack-mount case is made of heavy-duty, all-metal construction, making it strong and durable enough for any environment. With this PoE switch, you can power multiple devices using only one network cable.
This best PoE switch for cameras is ideal for use in surveillance systems with multiple camera sets, wireless access points, or other devices that are not connected to the powerline. With its Gigabit Uplink ports, you can connect mobile devices to your Switch with ease.
This PoE switch provides an efficient solution for powering your surveillance cameras without the need to use additional cables.
The device is compatible with all mainstream operating systems, including Windows, Linux, and Mac. The device also supports SNMP, RMON, and NetFlow and several advanced features for increased network control and management.
Pros:
✔ 18 ports for more connectivity
✔ Easy plug and play
✔ Best under budget
✔ Efficient, reliable, and brings lifetime solution
Cons:
✖ Unmanaged, which isn't even really even a con
Cisco Business CBS110-8PP-D Unmanaged Switch
It's true that network switches are a critical part of a LAN infrastructure and connecting IP Cameras. Therefore, designed for use in a busy network where everyone needs a dedicated bandwidth, the Cisco Business CBS110-8PP-D Unmanaged Switch provides a superior network experience through IEEE 802.3af/at PoE compatibility.
It features robust construction with a metal case and fanless design for better heat dissipation, making it ideal for open-plan offices, retail stores, classrooms, and other environments requiring mobility.
This cisco Poe switch for IP cameras is built with five 10/100/1000 ports and two Gigabit Ethernet ports that provide a total bandwidth of 120 Gbps and can be adjusted to support a variety of network applications and services.
With a maximum output power budget of 32W, this POE switch can power up to 4 IEEE 802.3af/at-compliant Power over Ethernet (PoE) devices via its four ports, offering additional convenience and productivity to your business.
It features a plug-and-play installation without the need for IT know-how or support and is backed by a Cisco limited lifetime warranty. Even the initial cables are already connected, so you don't have to waste precious time. It's designed just for you to have you up and running right now.
Pros:
✔ Sturdy built
✔ No need for anyone for installation
✔ Best with budget
✔ Speedy and more in numbers ports
Cons:
✖ Not a long-time use
TRENDnet 6-Port Fast Ethernet PoE+ Switch
With the POE50 (TPE-S50) 6-Port Fast Ethernet PoE+ Switch from TRENDnet, you can turn on and off each connected IEEE 802.3af/at the compliant device and monitor the power usage and the remaining PoE budget.
This PoE switch features 4 x Fast Ethernet PoE (Power over Ethernet) ports and 2 x Fast Ethernet ports with a total PoE budget of 60W. It powers devices such as APs, audio/video surveillance systems, Smart TVs/monitors, IP Surveillance cameras, Wireless Access Points, IP phones, Wireless Bridges, IP Paging Systems & IP Doorbells.
It also supports IEEE 802.3x flow control for Full Duplex mode and backpressure flow control for Half Duplex mode, providing bandwidth management to ensure error-free data transmission.
The TPE-S50 complies with IEEE 802.3az, standards for Power Saving Ethernet, which reduces power consumption up to 70% when idle. This also features a configurable PoE budget, allowing the user to allocate the number of watts per port.
The auto-sensing IEEE 802.3af/at compatible port delivers up to 15.4W per port, and the POE50 can provide a combined power of up to 60W to connected devices.
It features a series of features that help ensure the reliable and safe operation of connected devices. Its metal case offers a lifetime warranty and protection and includes a power supply and a power cord.
Pros:
✔ 4 fast POE ports with 2 Ethernet ports
✔ Easy to use and configure
✔ Up to 200 Mbps data transfer rate with full-duplex mode
✔  Operating temperature feature
Cons: 
✖ Could be a little low speed than your expectations
Linksys LGS308MP Business Poe+ Smart 8 Port Gigabit Network Switch
You can keep your cameras on when the power goes out thanks to the integrated Power over Ethernet Plus (PoE+) functionality. It delivers power and performance to connect eight of your energy-efficient devices to your network, such as IP phones, IP cameras, and wireless access points.
Integrated Power over Ethernet Plus (PoE+) enables high-power devices such as video surveillance cameras and VoIP phones to be connected to the network.
This best Switch for IP cameras is a smart eight-port switch that delivers more than 16 Gbps of bandwidth, allowing you to expand your business network to more devices and machines. This smart-managed network switch offers the convenience and simplicity of a plug-and-play setup process.
The Switch is also easy to install, with its plug-and-play setup. It also features a flexible mounting option. You can easily mount the unit on a wall or place it on a tabletop. With this smart Switch, you can prevent network congestion, ensuring that your IP cameras are always on.
Pros: 
✔ 8 ports with 16Gbps bandwidth
✔ Easy to install
✔ Smart and reliable
✔ Good choice for multiple devices under a good budget
Cons:
✖ No reasonable con
BV-Tech 6 Port PoE+ Switch (4 PoE+ Ports with 2 Ethernet Uplink and Extend Function)
If your choices need an excellent ending, last but not least the best PoE switch for home network is again something worth looking for.
This POE switch is one of the most powerful options in the industry and is designed with an energy-efficient processor, which results in lower operating costs and a reduced carbon footprint.
The BV-Tech 6-Port PoE Managed Switch with 4 PoE+ Ports and 2 Ethernet Uplink Ports is the perfect solution for small and medium businesses, multi-tenant buildings, educational campuses, and retail outlets.
It is ideal for connecting multiple devices such as surveillance cameras, wireless access points, VoIP phones, network storage, and other Ethernet devices.
The kit includes 4 PoE+ ports and 2 Ethernet Uplink ports. It also supports PoE PSE devices with 802.3at/af standards. Its 60W Max Total Power (includes 60W DC adapter), Extend function extending max PoE transmission distance from 100 meters to 250 meters PD detection will automatically detect and provide the required power for your PoE devices.
The kit also comes with an included 5-24V/60W DC adapter. It also supports PoE PSE devices with 802.3at/af standards.
It provides high data-transfer speeds and full network functionality, delivers cost-effective and secure high-speed wired and wireless connectivity in a single, easy-to-install, and managed device.
Pros: 
✔ Most powerful and efficient
✔ Multiple connections and long-time durability
✔ Easy to plug and play
✔ Best for business and small retailers need
Cons: 
✖ The output voltage is low
Frequently Asked Questions:
What is a good PoE switch?
A good PoE switch has three things in common.
✔ One, it will be compatible with third-party PoE devices.
✔ Second, it will offer roughly 30W output.
✔ Third, it will not get hot.
You need to get a good switch to power your access points and video cameras. Don't settle for a 150W switch if your access points and video cameras don't draw that much power. But in case they do, having a switch even more than 150W would be better. A good switch will bring you a lot of convenience in the long run.
How do I use a PoE switch for IP cameras?
A POE switch typically takes a network cable from your router and powers the cameras from the cable via the POE switch. A wired connection from the POE switch to a wireless access point is then used to provide a wireless connection to the cameras.
Do I need a managed switch for IP cameras?
This depends on what you are trying to achieve with your IP cameras. You can directly connect the camera to your existing network with an Ethernet cable. This will not require you to buy another switch. Using an Ethernet cable is actually more reliable than using a wireless camera because of the wiring involved.
However, if you want to have several locations linked to your IP camera, you need to have a managed switch installed to provide network access to the cameras. A managed switch can be configured to allow access to a single port. This is one of the options you can use to connect your IP camera to the Switch.
Can I use a PoE switch as a normal switch?
Absolutely. The PoE's only limitation is the lack of a power jack for a non-PoE device. You can use a PoE switch as a normal switch, but you need to use an injector. If you want to, you can use an injector on the non-PoE Switch.
Do all switches support PoE?
No, not all switches support PoE. PoE stands for Power over Ethernet and is a standard that requires a network switch and a network card to both support PoE. If a network card is plugged into a switch that does not support PoE, it will not work and damage the Switch.
Conclusion:
This blog post has provided you with the information you need to choose the best POE switch for IP cameras. With this information, you will have to make sure that your IP camera system is compatible with the Switch so that the cameras will work optimally. This is very helpful when you are trying to choose the right Switch for your needs.
However, if you want to learn more about POE switches, please contact us anytime. We would love to hear about your experience in choosing the right Switch or in using POE in general! Thanks for reading and have a good day!