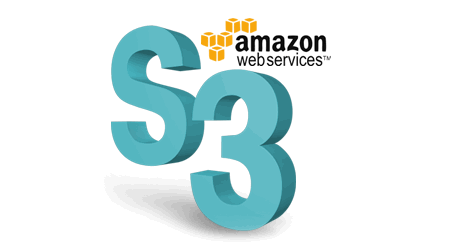 What is amazon s3?
AmazonS3 storage is an online storage system and service provided by Amazon, theoretically, S3 is a global storage area networks (SAN), it showed a large hard drive, in which you can store and retrieve digital assets. However, technically, there are some differences in the architecture of Amazon.
Amazon S3 structure:
Inside you find AWS S3 (Simple Storage Service) , a mass storage service, fully transparent, which allows us to hang all our data in the Data Center of Amazon without worrying about any limit.
You should know three key concepts of Amazon S3:
Amazon Buckets:

are something like a directory or folder on your operating system, which will place our files. The names of the buckets are shared by the entire network of Amazon S3, so if we create a bucket, no one else can use that name for a new bucket.

Amazon Objects:

are data entities in themselves, i.e. our files. An object stores both data and metadata necessary to S3, and can take from 1 byte to 5 gigabytes.

Amazon Keys:

Keys are unique identifiers for each account and hosted file.Keysare a unique key within a bucket that identifies objects in each bucket. An object is identified uniquely within the whole bucket + S3 by its key.
Why Amazon S3 Storage?
If you want to have a scalable, high availability and inexpensive storage service, Amazon S3 is a good choice. Alone marketing cannot convince you, and then there are seven reasons to choose Amazon S3 as enterprise storage.
Only Pay for what that you use:
Since there is no monthly minimum nominal fee, you only need you to pay. For example, you are using more than 500TB of high-capacity storage space, so you pay less than $ .10 / GB / month. But whatever amount you have to pay 10 cents / GB / month is used to reduce the redundant storage, as well as data transmission costs. If you use has remained relatively stable, your actual costs may be very low.
Amazon also offers a free version of its services. If you are a small business demand for storage capacity, so each user can free registered 5GB of storage space. S3 provides 5GB of storage space to meet all your needs, and you spend the cost is very low. If you want to change the storage capacity required, you can easily transition to become paid subscribers of the S3.
Regional storage is available in Amazon S3
If your company has offices in different region of world, you can select your region for storing data, in order to increase the upload, download efficiency. Currently, Amazon five storage locations in the world, in order to better meet the demand. You can from the United States, U.S. West (Northern California), EU (Ireland), Asia Pacific (Singapore) and Asia Pacific (Tokyo) to choose.
It needs to be noted that if you choose this area of Northern California and Tokyo, you spend will be significantly increased. The cost differences may arise from the real estate prices and regional data center electricity costs and many other factors.
Unlimited storage of Amazon S3:
Amazon offersunlimited storageand S3 is design to provide99.99 % availability.Amazon remains the redundancy detection data for the entire data center. The purpose of the design of this system is to prevent data loss in a single data center in the event of a disaster or accident.
 Amazon S3 reliability:
Amazon's service is reliable, safe and flexible. It supports a wide range of protocols and technologies work design.
Disaster Recovery with Amazon S3:
S3 provides a Disaster Recovery (DR)solution, the perfect combination of durability, scalability, availability and security. This is a good DR solution, it has unlimited storage, version control, and Amazon AWS Import / export functions.
Demand for DR and emergency backup to the Amazon processing, you need to compare to do so and to create your own DR site, the price difference between the maintenance and verification of backup hardware. The price of a few cents per gigabyte will allow you to give up the latter.
Amazon's Virtual Private Cloud:
Amazon's Virtual Private Cloud (VPC), you can build a complete infrastructure with a specific range of IP addresses, both public and private subnets, and your data stored in S3. This will be the one for you free to use the data center to achieve enterprise-class storage standard.
Amazon S3 is Secure:
Amazon S3 storage system is secure and safe. In amazon S3 these is concept of bucket, object and key, through with only authorize people have access to resources.