Block websites with windows host file:
Facebook is the most visited social networking site in the world and now a days every one is spending most of his time on facebook.  Our children at home and employees at office wast most of their time on facebook, therefore in some cases Facebook is disturbing human productivity and may lead to addictive behavior. Today i will show you a very simple way for blocking facebook on any computer without using any software. This trick is very handly for home computer as well as for small office and this simple and quickest ways to block Facebook by using Hosts file.
By adding entries to the Windows hosts file, you can block access to specific unwanted you can find this file from following path:
C:\WINDOWS\system32\drivers\etc\hosts
Steps for block website with host file
1.           Open the hosts file with administrative privileges with notepad, for confirming the administrative privileges open the properties of hosts file, login user should have full permissions on host file. if it is not then added your user manually and assign it with full access.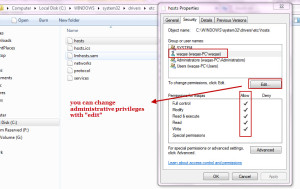 2.           Add the entries like "127.0.0.1 www.facebook.com" for blocking facebook at bottom of hosts file, you can use all possible URLs for facebook as shown in figure:
127.0.0.1 facebook.com
127.0.0.1 static.ak.fbcdn.net
127.0.0.1 www.static.ak.fbcdn.net
127.0.0.1 login.facebook.com
127.0.0.1 www.login.facebook.com
127.0.0.1 fbcdn.net
127.0.0.1 www.fbcdn.net
127.0.0.1 fbcdn.com
127.0.0.1 www.fbcdn.com
127.0.0.1 static.ak.connect.facebook.com
127.0.0.1 www.static.ak.connect.facebook.com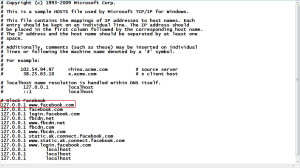 3.           Save the hosts file
4.           Restart your PC if needed
Download hosts file for blocking facebook:
In this way you can block any website using this host file, you can also download this hosts file for blocking facebook and can replace it with your current file at C:\WINDOWS\system32\drivers\etc\hosts