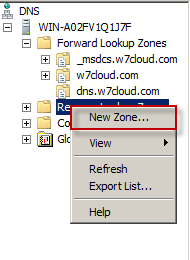 These are three types of zones in active directory 2008, which are forward lookup zones, reverse lookup zone and conditional forwarders.
Forward Lookup Zones:
The most common zone of DNS is forward lookup zone.  In windows server 2008 you can divide your zone into three regions that are primary, secondary and stub.
Primary Zone:
Primary zone is the read write copy of zone, this mean that if this zone answers the query then it is an authoritative answer. There should be only one copy of this zone in network.
Secondary Zone:
It draws the copy down from primary zone and this copy goes only in one direction. This zone has read only copy of the zone
Stub Zone:
To understand stub zone suppose you have users in your network which are continuously accessing your business partner's network, printer and other resources and this network is not manage by you. Also you don't have idea about their DNS zone and other network architecture. Then it good to create a stub zone for these queries, which only contain the enough information to send your client to your partner's DNS so that other DNS resolve your client queries.
How to create Forward lookup primary DNS zone in server 2008
Creating primary DNS zone in active directory is straightforward, open DNS from Administrative Tool. Then right click on forward lookup zone and click on new zone, click next to start this wizard.
In next option select the replication type,
Choose the zone name.
Since I am installing the DNS on same server where active directory is installed therefore best option to choose is "Allow only secure dynamic updates (Recommended for Active Directory)"
Click on next and then finish the wizard and this zone will appear in DNS primary zone.
How to create Reverse lookup zone in server 2008
Reverse lookup zone allows the client to get the name of the corresponding IP address by querying, in reverse lookup zone we can create the PTR (Pointer) again any host.
Creating reverse zone in active directory is almost same as forward lookup zone. Right click on reverse zone in DNS console and click on new zone.
Click next and select the primary zone and again click on next. Choose replication scope in next option.
Since I am using the IPv4 in my network therefore I would choose "IPV4 Reverse lookup Zone"
Then define the IP subnet for your network.
And again I am selecting "Allow only secure dynamic updates" and then finish.
Conditional Forwarders:
Condition forwarders is the feature of windows server 2003/2008 and it speed up the DNS Name resolution process by sending the specific quires to specific DNS server which have the name resolution for these quires. In other word condition forwarder tells the DNS server that if you got the query for particular IP subnet then forwards this request to specific DNS server.