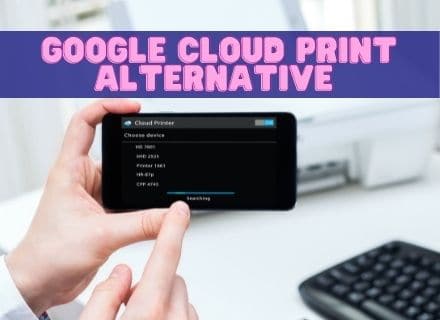 It is pretty evident that the Cloud Print facility was handy and much famous to use. However, the utility has been down because and joined the list of the myriad of Services Google Has killed for years to years.
Google Cloud Print Alternative
But that's not a problem because whenever one thing goes out of the market, another takes its place rapidly providing you another easier way to do things just like the way you want.
Like, take the example of a printer you can connect with your home Wi-Fi and also use more services in this way.
Therefore, I have collected some good and well-recommended Google Cloud Print Alternative you can use for sharing the printer with anyone you would like to. Please, take a look.
The Papercut – Google Cloud Print Alternative For Android:
For sharing your google cloud printer, the first software you can use is this Papercut Mobility Print. It works like a normal printing tool but provides a bulk of features for customizing, changing settings, and adding whomever you want to print through your printer.
Besides this, it gives you the ultimate support of all the operating systems including Windows, Mac OS, Chrome, and others as well.
You can also find android and the native UI printing makes printing easier by just pressing the Ctrl + P button allowing you to print as many pages as you want.
The software gives you easy access to bring all those devices that have a connection with it available in the local network. However, in its beta version, you can also let the devices connect with your printer even from the outside of the local network.
All in all, you can use it for sharing your Google Cloud printer with anyone who wants to print through your own printer using his/her mobile, laptop, or PC.
 The directprint.io Google Cloud Print Alternative for Home:
When you want to share your printer with the public like in a large enterprise or any organization, directprint.io is the best tool you can use.
It is highly recommended by people who love sharing their printers at a large scale and offering others to print being anywhere and anytime.
It is a full-stack developed app that is filled with Google Cloud Printing. It means the app will let you experience the native printing features you can only use in Google Cloud Printing.
It is also free and comes with lots of printing features for giving your printing needs a perfect alternative.
It means, now, you can have faster, reliable, and quicker printing using any device and being at any place with the help of only one software and one printer that could be connected to the Wi-Fi.
Sharing The Google Cloud Printer Using Ezeep:
The third most famous software providing the same services as Cloud Printing is this Ezeep. With this one, you will be able to replace all those GCP features that have been removed earlier. And guess what? You will have all of these free of cost making you spend nothing at all.
Coming towards the operating systems it can support, bring all those devices running on Chrome OS, Windows, macOS, or Android and make them print through having connectivity using this masterpiece.
Moreover, there is a paid version of the software you can have for accessing its features that can only be used when you will have it. It is especially for large enterprises or businesses. But just in case you are a person who wants to share your printer using this software, you are most welcome without spending anything.
ThinPrint for Cloud Print and Mobile Printing:
The last but not least service you can try as an alternative to GCP is the usage of ThinPrint for printing your documents. It is another tool that provides the facility of letting people use your printer for connecting with it and printing their desired documents. Supporting multiple operating systems, this app or software will never let you down.
If you think you don't have a large group of people or an organization structure to worry about, you can use this because it suits you best for small groups and individuals.
So, whoever is there in your local area, just ask him to use your printer and print the documents he or she want to. Wireless printing can easily find its solution with this printing cloud technology.
Moreover, the features for adjusting the documents and their size are also available. Nothing is difficult when you connect your mobile or PC with the app. Because the moment you will make the connectivity, you will be able to deal with things nicely.
Frequently Asked Questions:
How do I print anywhere without Google Cloud Print?
Instead of using Google Cloud print, we have different Google Cloud Print Alternative software. Using these services you can send print jobs directly to any printer within your network or you can print remotely using the internet. These services are simple, fast, and very affordable.
Why did Google discontinue Cloud Print?
The Google Cloud Print service was originally created to allow Chrome OS devices access more easily printer networks. As of now, because these machines can print with mainstream inkjet and laser printers natively through their built-in functionality or by connecting them via USB cable (no longer required), there's no longer need for this innovative solution!
What Is The Google Cloud Print Alternative For Home Use?
The Google Cloud Print alternative is called Google Print Service. It is a free-to-use but offline-only print service.
This service was built to connect devices with printers in offices.
However, it can be used at home as well. Basically, it lets you send print jobs from your device directly to the printer via Google.
So you won't need to set up a cloud print client for your device. Google Print Service is an excellent alternative to Google Cloud Print. Setting it up is easy, and it works very well in Windows.
Moreover, if you are not a fan of Google Cloud Print, you should use the service named HP ePrint. HP ePrint allows users to print from their mobile devices irrespective of the manufacturer or the model.
The only prerequisite for using the service is an HP device.
Can I Use Google Cloud Print Android?
Yes, you can use google cloud print service on your android mobile phone, Apple, or any other device that you have currently available.
Because cloud printing basically allows you to print things from a smartphone or a tablet without using a printer.
It's pretty convenient and helpful for those who don't have access to a printer. In some cases, it's cheaper to purchase the Cloud version.
Google Cloud Print is a way of printing things from an Android device.
How To Use Google Cloud Print?
Using Google Cloud Print is easy when you know how to use it. Well, Google has described a detailed guide that will let you understand how to use this printing client.
Does Google Cloud Printer Still Work?
No, This service is closed by google on December 31, 2020.
Final Thoughts:
At first glance, it might seem like Google Cloud Print is the only option for mobile printing. However, there are some alternatives that you may want to consider as well. All of these services offer an easy way to print from your smartphone or tablet without having to connect via USB cable on a computer, making them perfect for cloud printing needs.
Here we have shared the top four Google Cloud Print alternatives if you want an alternative with more features or fewer costs or just something different than what you're used to using already. All these services offer best features for cloud printing.
In the end, I am so obliged for your reading this piece of content. Keep visiting the website to find out more. Have a lovely day!