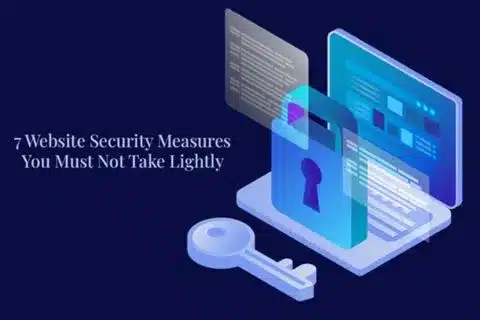 The rise of content management systems like Joomla, WordPress, Magento, and Drupal has expanded the ease of building websites. Just as Internet users must know how to check if the website is safe before entering their personal information, website builders must take steps to ensure their websites are secure.
Website Security Measures
Here are some basic practices to know to enhance your website's security.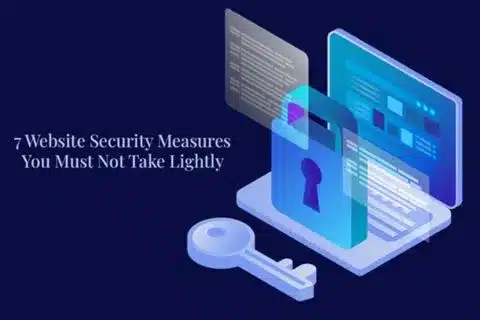 1. Work With a Reputable, Secure Host
To ensure the security of your website, it is crucial to partner with a trustworthy and dependable web hosting company. The chosen host must be aware of the threats and committed to keeping your website safe.
It would be great if the host could back up your data to a secure remote server so you can quickly restore your website if it is hacked. Moreover, the host company must offer ongoing technical support.
2. Login Pages Must be Encrypted
Secure your login pages with SSL encryption, allowing sensitive formation like social security numbers, credit card numbers, and other login credentials to be transmitted safely.
Encrypted information cannot be intercepted by a third party, and this offers peace of mind to site visitors. Also, hackers are prevented from accessing the user's login credentials.
3. The Software Must be Kept Updated
Regular updates of all installed scripts and platforms on your website are necessary, as cybercriminals are constantly searching for security weaknesses and vulnerabilities. Updated software does not have security holes, and this hinders hacking attempts.
4. Scan the Website for Vulnerabilities
You must continually perform web security checks to detect and solve server and website vulnerabilities.
It is recommended to perform web security scans on a schedule and after any addition or changes to the web components. You will easily find free tools to perform website security scans. But these tools are good for getting a brief idea. Since these tools are free, they cannot detect all the security flaws in the site.
It would be more advisable to engage the services of experts for this task.
5. Add HTTPS
Web addresses generally begin with either HTTP or HTTPS, and it is crucial to understand the distinction between them.
HTTPS, which stands for hypertext transfer protocol secure, provides web security. Conversely, HTTP does not offer any security.
Therefore, if visitors are visiting an HTTP website, the transmission of data from the site to the server and back is not secure. As a result, users entering sensitive information on HTTP sites are vulnerable, and hackers may get their information.
Today, most web browsers, including Chrome, warn users of visiting HTTP websites and flags them as not secure.
Therefore, your website needs an SSL certificate, so the connection is encrypted.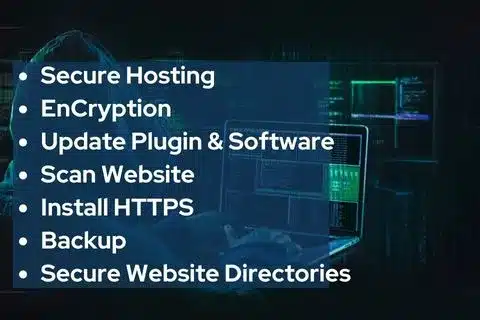 6. Set Up a Backup Plan
Having a reliable backup solution is among the most effective methods of safeguarding your website. Multiple backup plans are essential, so website recovery is not a hassle after a significant security incident.
There are different ways you can help recover lost or damaged files. For instance, you can keep the site information off-site and not store all the backups on the same server as your site. However, please note that servers are as vulnerable to cyber attacks as your website.
You can keep the website backup on a hard drive or your home computer. However, finding an off-site place to store your data and ensure it will remain protected against hardware failures, viruses, and hacks is vital.
Another popular backup option trending nowadays is backing up your website in the cloud. Cloud storage options make it easy to store data and offer quick access to information from anywhere.
After you have selected a backup option, the next step is to automate the process. Schedule site backups so you don't have to do it manually.
Although some people may consider it redundant, you can create backups of your site backup for extra security.
7. Secure Website Directories
When cybercriminals attack your site, they want to access the admin directories or the database. Therefore, these two areas must be your focus when securing your website. Typically, hackers scan for directories with names like login and Admin. You can rename the directories if that's an option.
If renaming is not an option, you can modify permissions to those directors and sensitive files. However, you must limit the permission so that nobody can edit or delete the files and folders without your permission.
The Bottom Line
Data breaches and hacking attempts have become part and parcel of life. As a result, website builders must take steps to secure their sites so that users can enter their confidential data without thinking too much.
However, even if these website security measures are followed, Internet users must take steps from their end to remain secure. For instance, using VPN and not visiting malicious sites are some of the ways to protect sensitive information.