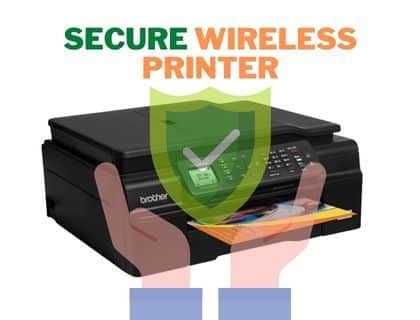 A wireless printer saves you from dealing with cables when printing documents. However, just as with any other wireless device, you need to take steps to protect your printer from unauthorized access or use. In this article, we'll explain how to secure your wireless printer and block others from using it, as well as provide steps to hide your HP printer from the network.
How to Secure Wireless Printer
Your wireless printers, as well as the network on which they are connected, should be secured. The easiest way to ensure a wireless printer is to use a username and password to secure the device. We have, however, come up with additional tips and methods to secure wireless printers.
Why you are required to secure your Wifi Printer:
Wifi printers are the modern way to print documents without connecting cables. But, just like any other wireless device, they need to be secured correctly to prevent unauthorized access or use. If you secure your printer, others may be able to view and print documents with your permission.
If you are using a wireless printer in the office, then you also need to protect your printing history because you don't want your confidential documents to be seen by others. So for any organizational printer, you must secure it with proper security measures.
What can Hackers do with Wireless Printer Access?
If you have an unprotected wireless printer attached to your computer, it can seriously threaten the security of your important documents. Malicious attackers can access your important files through your printing history. Your printer's history can also help him locate these critical files and folders.
How do I Secure my Wireless Printer
We will share some valuable methods and tips to secure your home or office printer. Some of these methods are only applicable to office network printers, while others are applicable to home printers.
1. Secure Wireless Printer with a Password:
If you are securing your wireless printer with a password, then a password is the only thing between hackers and your whole network if you are doing so.
Password-protected wireless printers are important for several reasons. The first benefit is that your data is protected.
Your printer is vulnerable to unauthorized access without a password. You can also prevent malicious software and hackers from accessing your device with a secure wireless printer.
Using a password to secure a wireless printer is fairly easy. To begin, you'll need access to your printer's settings.
The "Security" option, or the "Security and Network" option, can be found under the Settings menu.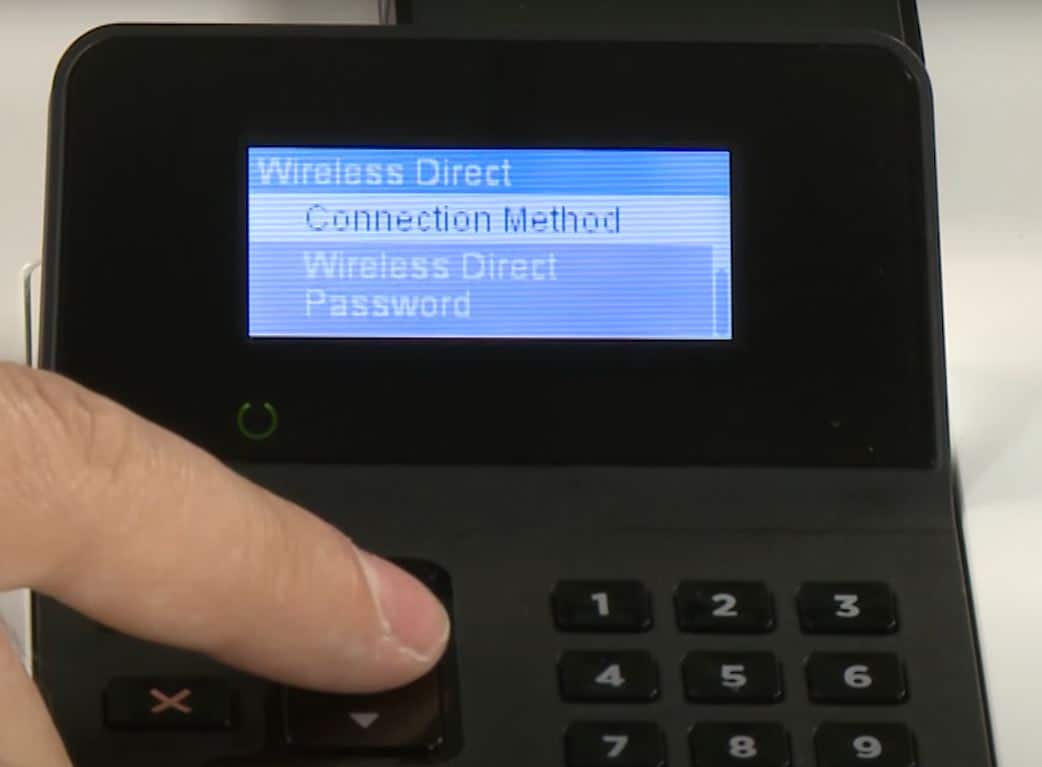 Select a password that is extremely difficult to guess. After creating your password, save the settings before closing the menu.
You can also set the wifi printer's password from its web interface. For this, you can open its web interface by accessing the printer's IP address from a web browser.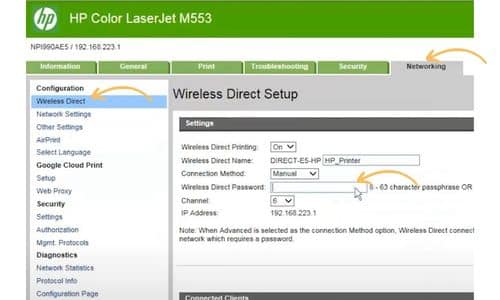 Once settings are open, you can navigate to network/wifi direct settings and then find the setting for changing the wifi direct password.
2. Enable encryption:
If your printer support encryption, then You should enable encryption on it. Otherwise, you can enable it on the wireless router or access point. It will scramble data sent over the wifi connection so it cannot be read by anyone but authorized users.
The type of encryption depends on your router; most routers today use WPA2 encryption, which is considered very secure.
Don't let these passwords slip your mind! Make sure you keep track of them all!
3. Securing wifi Mean Secure Network Device:
Securely configuring your home wireless network is the first step to securing a wireless printer. 
IT teams secure networks, control printer access, and encrypt data on office machines. It's different at home.
Here are the best settings for home wifi:
Set up WPA2

Wi-Fi passwords should be strong 

Encryption using AES
Wireless printer security can be enhanced using these settings. It's possible you don't know how to enable those settings.
4. how to block others from using my printer:
If you have a printer that is shared from your computer, this method will be very handy for you, here in this article, we discuss this method.
The following steps can be used to prevent users from accessing the wireless printer:
From "Printers and Scanners", open the printer's properties and choose the Security tab.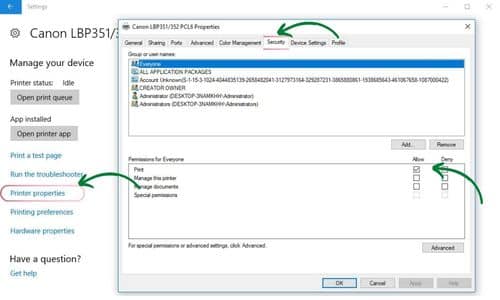 Using the security tab, you can see the list of users and groups with access to the printer. In this menu, you can add and remove more users and apply different restrictions.
For Windows Server domain environments, if your printer is connected to the network, you can use the same types of policies described above but more effectively۔
5. Hide Wireless Printer From Network
If you want to avoid people seeing your printer on the network, there are several ways to hide it from view. This way, your printer is only accessible to those who can access it manually.
First off, ensure that only those who know its exact name can find it on the network – if someone does an automated search for printers, they will only be able to see yours if its name is listed somewhere visible.
Use the security tab and add the users you want to allow
6. Apply MAC filtering:
One way to ensure that only authorized users have access to your wireless printer is by blocking specific IP addresses or MAC addresses from connecting to it. In order to accomplish this, your printer needs to be connected to a network-router, and you can block certain MAC addresses as needed.
Only a few printers support blocking specific IP addresses or MAC addresses from accessing your printer.
7. Block optional printing ports
Blocking unused ports is a good practice when using a network wireless printer. On new printers, IPPS protocol via SSL port 443 is the standard protocol for secure printing. You can allow that port, but. AppleTalk, Telnet, FTP, and SNMP are optional, unnecessary, and rarely used protocols and services that can expose your network to potential attacks.
Disable the following network ports if you're not using them:
IPP on port-631

Ports number 515, 721-731, and 9100 must be blocked.
While this method is helpful for office network printers, you might not need it for a home printer.
8. Change the default SSID of the Printer:
If you use a wifi printer with wifi direct, then you also change its default SSID. It will prevent hackers from guessing the default SSID of your printer. Once you change the default SSID of your wireless printer, no one will be able to guess it easily.
9. Update the Firmware
The latest firmware provides more security options and features. It also improves the speed of your wireless printer. So updating the firmware can increase the security of wifi printer.
Hide the hp wireless printer from the network
HP printers offer several security features to help protect your printer from unauthorized access. By enabling encryption, blocking IP addresses or MAC addresses, and hiding the HP printer from the network, you can help ensure that only those with the correct credentials can access it.
Follow these steps to secure your wireless printer and keep sensitive information safe. To hide the HP printer from the network and secure your wireless printer, you can take the following steps:
Change the printer's name to something unique and obscure, making sure it is not visible in plain text.

 Disable SSDP (Simple Service Discovery Protocol) so that searches for UPnP (Universal Plug and Play) devices won't appear.
Conclusion:
Protecting yourself online should always be a top priority when using technology like wireless printers—especially when multiple users share access privileges! These simple steps above will help you for securing your wireless printer.