How to display operating system hidden files in Windows 7?
This article is about how to show the hidden files and folders on windows 7.
 Most users know by eliminating "hidden files and folders" function to display those files with hidden attributes. Also, many of the hidden files are having a system property, or if you want to display the hidden files and folder then use the following method:
First, open the "Computer explorer", click on "organize" and then Folder and Search Options (Fig. 1)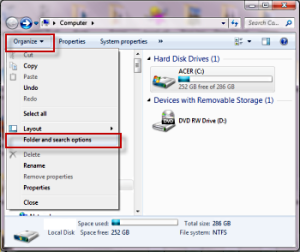 Then from view tab, select the option and show hidden files, folders and drives and for showing operating system hidden files you can uncheck different checkboxes like:
Hide empty drive                      If you uncheck this will show empty drives
Hide extension for known files If you uncheck this will show extensions against every files
Hide protected windows files     If you uncheck this will show hidden operation system file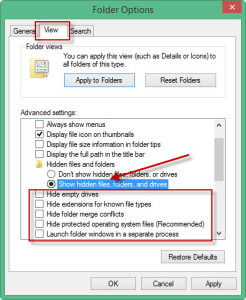 After selecting the desire options, click on apply and OK. Now hidden files will be appear on your computer, you can also remover their hidden attributes from every file properties. For more detail you can Visit how to hide files on windows 7.