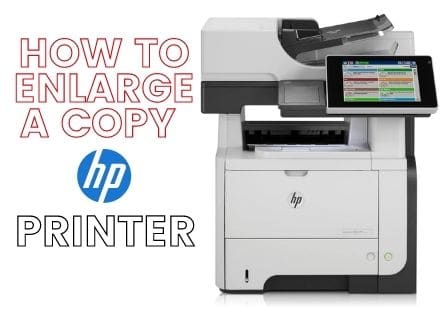 Do you use an HP printer and often face issues while increasing or decreasing the size of your printing copy? Because If you were facing these issues, you probably are looking for how to enlarge a copy HP printer. If you do so, you have arrived at the best place to solve your worries.
How To Enlarge A Copy Hp Printer?
Today, I will teach you how to enlarge or small your HP printer copies through easy guiding methods. So, if you stick and learn it thoroughly, you will be able to have impressive details of all those smaller copies you have.
Therefore, let's start discussing the process of enlarging and smalling the copies of your HP printer.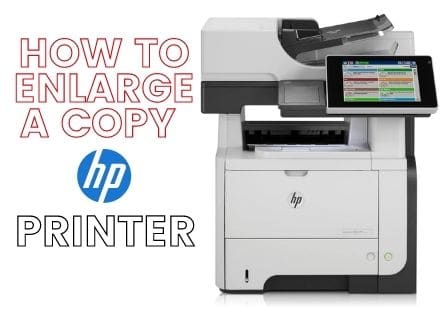 How To Enlarge Or how do i reduce the print size on my hp printer ?
Suppose you have the HP enterprise printer, and you want to know how you can enlarge or decrease the size of copies over it. Therefore, let's make you learn this by the following steps.
First of all, enter the pages into the printer tray. And then place the copies you want to print over these pages onto the printer's scanner.
You need to make sure you place the pages you wanna copy into the printer and fix the edges if they need to be. Therefore, follow any kind of guides or markings given on the scanner bed to ensure the proper placement of your paper on the scanner bed.
Suppose you have got the HP enterprise printer. In that case, you will obviously have the facility of a large Touch Control Panel just in front of you.
Or you can access the scanner glass or any automatic documents feeder to adjust your copies' size into this one.
From the Home screen of the control panel, you need to touch the Copy Option. It will let you adjust the number of copies you want to print.
Here, you will also have the option of enlarging and reducing the size of the copies you want to print on your printer. Click on the Reduce/enlarge option available to you on the home screen, and you will have a new window. You can select the predefined scaling options given at the panel, or you can use the screen to enter your default number.
Here, you can add 100% or 200% whatever size you want of your copies and print out the documents in a large size. You can also reduce the size by entering any number you want your copies printed out.
Once you have adjusted the necessary settings, click on the Copy option and take your printout.
In this way, you can enlarge or reduce the size of your copies using the Enterprise HP printer. But it shouldn't be the only one you should know how to operate. Because HP offers lots of quality printer models and therefore, let's take a little look at some other models of printers by HP.
How To Enlarge Copy on HP LaserJet M1005 MFP Printer?
This HP printer model can let you generate copies of sizes ranging from 25% to 400% without facing any problem. You can have large posters, images, documents, and whatever you want to print with the HP LaserJet M1005 MFP printer. However, to give this size to your copies, you need to perform the following steps.
You will have the control panel of your HP printer from where you will need to select the More Copy Settings. Once you are into it, you can reduce or enlarge the size of your desired copies.
For doing so, you can use the > and < buttons for enlarging or reducing the size of the copies you want to print. Once done, you can click on the Menu or Enter button to go further.
However, this only works when you have selected 25% to 400% custom size. You can use the above-recommended button for enlarging or reducing the copy size.
Now, press the enter button, and your printer will start printing your desired-sized copies without any problem.
How To Enlarge Or Reduce the Copy Size of HP LaserJet Pro 500 Color MFP M570 Printer.
Here I will represent another HP model that you might use to print your desired size and number of copies.
Be with it, and you will learn through the following steps how to enlarge or reduce the size of your copies with this printer model.
The first thing you need to do is to load the pages into the printer tray of your HP LaserJet Pro 500 color printer. Adjust the pages into the tray according to the marking.
Now, use the scanner tray to place the copies you wanna scan and print over the pages you have entered into the tray.
Use the Printer Home Screen Panel and go for the Settings. Touch it and enter into the main settings of your Printer.
From there, you need to select the Copy Button and enter into the settings of doing necessary settings for enlarging or decreasing the size of different copies you want to print.
You can click the Reduce/Enlarge button and use any size from the menu. Or create your custom size by entering the numbers you want to print your documents.
Moreover, you can also select the black or color printing option for printing your desired copies.
So, this is what it takes to enlarge or reduce the size of your HP printer, as it doesn't matter what type of printer you have. But if you aren't able to figure out your specific one, you can search for that particular model of printer online and look for the perfect copy resizing details about it. I can make sure that you are gonna find it.
Frequently Asked Questions:
How To Resize On Hp Printer?
For resizing the documents you have on your HP printer, you need to do the following settings.
Go to the Home menu>Copy>Settings>Reduce/Enlarge. After clicking on all of these in the same sequence, you will be able to resize your documents or pictures on any HP printer you have.
How Do I Enlarge A Copy On My Epson Printer?
Epson printers come in different models, and they all have various setting options for accessing their manual work. However, it doesn't matter what type of printer you have; you can also use its touch control panel for using the settings and enlarge or reduce the size of your printer anyway.
How Do I Enlarge A Copy On My Hp Envy Printer?
On any HP Envy printer, you can use the same procedure for changing the size of copies you want to print through it. That's simple and easy to do if you follow the settings I have already told you.
Final Thoughts:
It's fabulous to know if you have learned each step regarding how to enlarge copy HP printer. You can use this information to resize your documents on your different printers. There are no hard and fast rules you will need to follow for doing this stuff. But ordinary and straightforward procedure. Therefore, ensure you get your desired copies according to your preferred setting and do the job perfectly.
In the end, thanks for reading and paying attention. If you have any questions regarding this topic or any other, you may ask in the comment section. Please keep reading and visiting to find more. Have a lovely day!