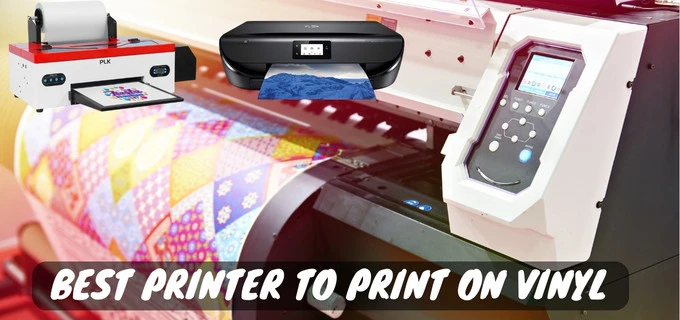 Printing on vinyl has become increasingly popular due to its versatile applications, such as creating eye-catching stickers and decals.
Best Printer To Print on Vinyl
This article'll guide you through the best printers that can easily handle vinyl printing. Whether you're a creative hobbyist or a small business owner, our recommendations will help you find the perfect printer for your vinyl printing needs. Let's dive into the world of vibrant and precise vinyl printing options!
What is an Eco Solvent Printer?
An eco-solvent printer is a type of indoor printer that uses biodegradable ink, which is better for the environment. The ink doesn't contain water, but it's made from materials derived from petroleum. One great benefit is that the ink is 100% waterproof!
With an eco-solvent printer, you can make various indoor materials like banners, floor graphics, wallpapers, and retail displays. Since these printers use eco-solvent ink, the printing parts won't get easily damaged or worn out.
How We Chose the Best Printer for Stickers:
We looked at some important things to find the best printer for stickers. Also focused on print quality, printing speed, and color accuracy. Additionally, we looked at features like lamination capabilities and wireless connectivity to laptops, smartphones, and tablets. Our writers have extensive experience with various printers, and this guide is based on that knowledge combined with our own research to find the best options for you.
What You'll Need to Print Stickers:
Before you start printing, make sure you have all the necessary equipment. You'll need Vinyl sticker paper if you plan to print on vinyl. For paper stickers, consider having laminating paper to protect them. 
Printable Transparent Sticker Paper

Printable Vinyl Waterproof Sticker Paper (for inkjet and laser printers)
Best Printer To Print on Vinyl Sticker Paper
Check out our research on the printer for vinyl sticker paper, perfect for all the sticker enthusiasts out there!
1. The HP ENVY 5055 Wireless
The HP ENVY 5055 Wireless AIO Photo Printer is convenient for home office owners. However, it falls short compared to some competitors in terms of features. Notably, it needs an automatic document feeder with a slightly higher running cost. Here's a closer look at the printer:
Print Quality:
The print quality is decent for an entry-level printer. Text prints were clear at point size eight but slightly blurry at points 4 to 6. Graphics, including PowerPoint, Excel, and Acrobat prints, were generally good, though some mild streaks were visible.
Speed:
It could be a lot better, just like we expected from an entry-level printer. It prints 10 pages per minute in black and white and 7 pages per minute in color.
The 4×6 photo prints took about 42 seconds, which is reasonable for its price range, although slower than some other models like the Canon PIXMA.
Vinyl Sticker Printing Experience:
The printer performed well for vinyl printing. The combination of cyan, yellow, magenta, and black ink produced satisfying colors on regular vinyl papers. While printing gradients on pink cardstock paper, there was a slight color shift, which was not noticeable to the naked eye.
Other Features:
HP always excels in connectivity options, and this printer is no exception. It offers InkjetWiFi, Bluetooth, and Cloud printing, making it compatible with PCs, laptops, iOS devices, and Android devices. One standout aspect is their ink investment policy, which can save users around 50% of their yearly ink costs.
Specifications:
Inkjet printer with WiFi, Bluetooth, and Cloud printing capabilities
Compatible with Windows and smart devices
Verdict

:
Overall, the HP ENVY 5055 Wireless AIO Photo Printer delivers satisfactory performance, especially for vinyl printing. Its affordability and connectivity options make it a reasonable choice for home use or small offices. However, there may be better options for those needing advanced features like an automatic document feeder or direct printing from flash drives and SD cards.
2.DTF L1800 Transfer Printer
We are introducing the Upgraded DTF L1800 Transfer Printer! This printer has a roll feeder and auto heat station, which helps avoid paper jams and makes printing faster and more efficient. 
It also has an Advanced White Ink Circulation System that prevents clogs and extends the print head's life. The built-in white ink agitator automatically keeps the ink circulating to prevent settling. Operating the printer is simple, you don't have to adjust the printhead, add ink and start printing. 
After printing on the PET film, transfer it to a T-shirt with a heat press for quick and efficient production.
The DTF L1800 Transfer Printer is versatile and can be used on various fabrics like T-shirts, bags, hats, pillows, and more.
We have a professional after-sales team to support you, and the printer is compatible with Windows 7, 10, and 11. If you encounter any issues, we offer high-quality remote service assistance.
3. The Brother MFC-J995DW Printer:
The Brother MFC-J995DW is a fantastic sticker printer for small businesses that want to print on vinyl. It's unique because it can print on both sides of the paper and connect to multiple devices, making daily tasks easier. However, the cost of printing, especially for vinyl, can be a bit higher. Let's take a closer look at this printer:
Print Quality:
Brother is known for its laser printers, and this one doesn't disappoint. The text quality is excellent, with clean and clear characters at points 4 and 5. The graphics also look smooth, but you might notice slight streaks in some gray areas.
Speed:
The printing speed is good, but not super-fast. According to Brother, the printer can print 12 pages per minute in black and white and 10 pages per minute in color. Our tests showed that it was slightly slower at 10.5 ppm for a 12-page Microsoft text document, and a 4×6 color photo took about 32 seconds.
Vinyl Sticker Printing Experience:
We tried printing vinyl stickers with this printer, and the results were satisfying. The 10 different stickers on the cardstock had great colors. Some areas with black to dark green gradients had minor bands, but it's not a big problem.
Other Features:
The printer has all the essential features for easy connectivity with different devices. Plus, the ink investment process is worth mentioning. The cost per page for text printing is higher than some competitors, like the Canon G4210, but the quality of sticker printing makes it worth it.
Specifications:
Inkjet printer with a 20-sheet automatic document feeder (ADF)
USB, WiFi, and Ethernet connectivity options
Auto duplex printing capability (Printer can print on both sides of the paper)
Compatible with PCs, laptops, and smartphones
Verdict:
The Brother MFC-J995DW Printer is a versatile option for small businesses, especially for vinyl printing. Although the running cost may be slightly higher, the excellent print quality and connectivity options make it a reliable choice for various printing tasks. Remember that it might not be ideal for large printing projects due to input and output capacity limitations.
4. Canon PIXMA PRO-200 printer
The Canon PIXMA PRO-200 printer is known for its excellent vinyl printing. It has a high-quality resolution and uses 8 dye-based ink cartridges for vibrant stickers.
While it's not the fastest, the quality justifies the slightly slower speed. Color prints take about a minute, and stickers take a bit more time, but the results are exceptional. Despite its small size and lightweight, it can handle glossy and matte vinyl up to 0.6mm thick.
The printer offers wireless, Ethernet, and USB connections, supporting various print applications like AirPrint. Canon's Media Configuration Tool ensures smudge-free vinyl stickers.
You can print directly from the printer's colorful LCD screen. Maintenance is easy with automatic nozzle clog detection, though setup may take time.
With a low running cost, it's a great choice for businesses printing vinyl stickers frequently. The cons are no support for roll media and a challenging initial setup.
Overall, the Canon PIXMA PRO-200 is worth it for its quality prints and versatile features, making it suitable for professionals and enthusiasts alike.
5. Epson Workforce ET-3750 -Best ECO solvent Printer For Vinyl
If you're looking for an efficient and eco-friendly printer for your home office, the Workforce ET-3750 Ecotank SuperTank Printer is the answer. It's designed to save you money on ink, time, and space.
This printer comes with special ink that can print up to 14,000 pages in black, which is equal to about 30 regular ink cartridges. It also has four replacement ink bottles, so you save even more.
It can hold up to 150 sheets of paper and has a 30-page auto document feeder, which makes loading paper faster and easier. This printer is small and will only use up a little space in your office. Also, it's important to note that you won't need cartridges for printing; it comes with enough ink to last up to 2 years of printing.
Replacing the ink is affordable and saves up to 80% on ink costs.
It's efficient with a 30-sheet auto document feeder and quick automatic two-sided printing.
6. HP OfficeJet 5255
I love my HP OfficeJet 5255! It's affordable and perfect for printing stickers. The print quality is impressive, with super-realistic gradients and a resolution of 1200 dpi.
It feels like looking at a masterpiece every time I print something.
This printer can handle many pages monthly, making it great for small businesses and home offices.
In short, if you want to start creating your own stickers, the HP OfficeJet 5255 is the best choice. It's reliable and produces high-quality stickers!
Buying Guide -Printer For Printing on Vinyl
Printing on vinyl requires a special printer for several important reasons. Regular inkjet or laser printers may not be suitable for this task due to the unique properties of vinyl material and the specific requirements of vinyl printing. Here's why you need a special printer for vinyl:
Ink Compatibility:
Vinyl is a non-porous material, so traditional inks used in standard printers won't adhere properly to its surface. Specialized vinyl printers use ink formulations specifically designed to bond with vinyl, ensuring long-lasting and vibrant prints.
Precision and Resolution:
Vinyl printing often involves intricate designs and fine details. A dedicated vinyl printer has advanced print heads and technologies that provide higher resolutions and better precision, producing sharp and clear images.
Media Handling:
Vinyl rolls come in various sizes and thicknesses. Standard printers are not equipped to handle the thickness and weight of vinyl sheets or rolls. Specialized vinyl printers have adjustable media trays and rollers to accommodate different vinyl materials effectively.
Drying and Curing:
Vinyl ink requires proper drying and curing to adhere to the material effectively. Vinyl printers incorporate advanced drying systems to ensure the ink sets correctly on the vinyl surface, preventing smudging and smearing.
Durability:
Printed vinyl items may be used outdoors, on vehicles, or in other demanding environments. Specialized vinyl printers use UV-resistant inks that enhance durability, ensuring the prints remain vibrant and fade-resistant even under harsh conditions.
Color Gamut:
Vibrant and accurate colors are essential for vinyl printing, especially for graphics and artwork. Specialized printers offer a broader color gamut, allowing them to reproduce a more comprehensive range of hues with exceptional color accuracy.
Software Compatibility:
Vinyl printers are often compatible with the industry's design software, making it easier for users to create and print their artwork without additional hassle or conversions.
Ease of Use:
Dedicated vinyl printers typically come with user-friendly interfaces and software, simplifying the printing process and reducing the learning curve, even for those new to vinyl printing.
Using a special printer designed explicitly for vinyl printing ensures you get the best print quality, durability, and ease of use results. It saves you time, effort, and money, as you won't encounter issues like ink smudging, compatibility problems, or compromised print quality that may occur when using standard printers for vinyl printing. With a dedicated vinyl printer, you can unlock the full creative potential of vinyl and achieve stunning, professional-looking prints for various personal and business applications.
Conclusion:
If you want a great all-around printer that's also excellent for stickers, choose the HP Envy 7855E. But we love all the printers on this list. Consider the upfront cost and how many stickers you need to print quickly. In contrast, DTF L1800 Printer can print on vinyl and ability to transfer the print onto Shirt. So it can be an excellent choice for small vinyl sticker shirts.
LaserJet printers are ideal for large quantities, while InkJet printers are best for high-quality stickers or labels, as long as you budget for ink cartridges. The HP Envy 7855E stands out because it has a six-month ink supply, which is great for occasional users. 
If you're still unsure or need more choices, look at our guide for the best all-in-one printers. It includes other models that might be a better fit for you.