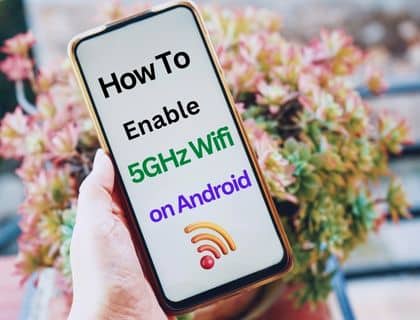 You're in your home, trying to get some work completed. However, your internet isn't working. It's likely because you're too far from your router. The farther you are from your router, the less signal strength you'll get. By enabling 5GHz WiFi on your Android phone, you can connect to your router with a stronger signal and stay online longer.
How To Enable 5GHz Wifi on Android
Do you have any idea about the fact that your Android phone could also be able to support 5 GHz bands? If it's not, don't worry, we're here to help you understand how to enable 5GHz WiFi for Android. Let's begin with a bit of basic information about.
First, let's start with a little bit of background information. The 2.4GHz band is the most common WiFi band – you'll find it in most homes and public places. The 5GHz band is less common, but it's also less crowded and can offer faster speeds. So if your Android phone supports the 5GHz band, it's worth enabling it.
How to enable 5GHz WiFi on your Android 11 device
If you have a long-range wifi router and looking for how to enable 5GHz WiFi on your Android device to get fastest speed. This article will show you how to enable 5GHz WiFi on your Android device.
First, you'll need to check to see if your WiFi router supports the 5GHz band. We will share the procedure for checking whether your router supports the 5Ghz band in the second part of this article.

The other thing to do is ensure that your Android smartphone supports 5GHz. To check this, head to Settings > WiFi, and search for the "5GHz".
How To Connect 5ghz WiFi On Android?
This method will help connect to the 5GHz wireless network on any Android device, but your phone must support it initially. If not, this advancement cannot be used for specific reasons- mostly because routers don't always have enough capacity when connected with WiFi networks at higher speeds like 450 Mbit/s or even 600 MBit/. So take note if buying new gadgets as most of them come equipped nowadays having a 2Gigabit serve over their respective Internets!
One must first go to the mobile settings option to connect to WiFi on an Android device. Then, they must click on the WiFi option. This procedure is almost the same for any android device.

You can click on the three or two dots on the right or left-hand side of the screen.

There may be an additional drop-down menu or a list. Select "Advanced." Advanced option. Select the frequency band you'd like to use.

Click on the frequency band you want. You can choose between 5GHz and 2GHz.
Next, refresh your WiFi connection. The network will switch to a different band. By following the above steps, you can modify the settings of other electronic devices, such as a Macbook or laptop. It is nearly the same basic procedure.
How To Connect 5ghz WiFi On Router?
The 5GHz network has been introduced to overcome the problem of a crowded 2.4Ghz network. The 5GHz network is less interference and is less crowded, resulting in high data passing speed. Android devices support the 5GHz network. Remember it is not every router can support both WiFi versions. Many older models only support 2.4 GHz, while the more recent routers typically come with both. For a WIFI router to support this speed, anyone can check their router's manual or change the settings of the router using the following procedure:
To log in, you must open the web browser and enter the router's IP address. Usually, it is printed on the router's backside or in your router's manual. Log in to the router page by entering its username and password.
The page will display if the password is correct. On the left side, you will see wireless settings. Click on it. You will see a drop-down menu or list. Click on the advanced settings. These settings can differ depending on your router model.
To convert 2.4GHz into 5GHz, you must change some settings after clicking on the band setting or drop-down menu. You will see the wireless option just below 2.4GHz or 5GHz. Select 5GHz, and then a new page will be displayed.
 It would help if you made changes to the new page. To make changes, please refer to the following:
Enable 5GHZ and disable 2.4GHz

Change the wireless mode from another standard to 802.11oc.

Click on the channel-Manual.

Next, click on channel width-20/40/80MH2. You will need to disable channel optimization. This option is located below the smart WiFi option.

 Select channel 48 and Save the setting. That's it!  
The benefits of using 5GHz WiFi over 2.4GHz
5GHz WiFi is the newer and faster standard for wireless networks. It offers several benefits over 2.4GHz, including broader channel bandwidth, less interference from devices such as microwaves and Bluetooth, and more non-overlapping channels.
If you have a device that you want to be closer to the router, it's best to use the 5 GHz frequency.

5 GHz will give you a stronger signal and faster speeds over a shorter range than 2.4 GHz.

Additionally, 5 GHz is less prone to interference, and there are usually fewer devices using this frequency.
Can't Connect To 5GHz WiFi Android
You can determine why your Android phone isn't connected with the frequency band 5GHz.
It could be because your router or Android devices aren't compatible with the 5GHz wireless network.

That is why you must verify your router's settings and the devices to ensure they are connected to a 5GHz wireless network. All the latest Android devices support 5GHz.

If the option for 5GHz WiFi isn't showing in your Android device or if it is connected to the 2.4 GHz network, it's most likely because your device isn't compatible with 5GHz.

Specific devices automatically combine the two frequencies with the same name and password.
If the router you are using, an Android device, is compatible with the frequency 5GHz, follow these steps to solve the problem:
Reset your router.

Reboot your Android mobile.

Make sure that your Android device is within reach of the WiFi router.

Check your 5GHz wireless connection with another device.

Update the firmware on your router.
FAQs:
Why is my 5GHz WiFi not showing up on Android?
If you're not able to see the 5GHz networks on the android device, this could be due to one of these reasons:
Your phone or computer might have issues with networks running 5GHz and not supporting it.

The hardware, such as your router, could not be compatible with a 5GHz network.

You might not have configured the 5GHz networks correctly on your router or device.
How to change WiFi frequency on Android?
If you're interested in changing the frequency of WiFi on your Android device, Follow these simple steps:
1. Navigate to "Settings" within your Android phone. Go to Settings on your Android.
2. Click on "Connections" and then select "WiFi."
3. On the top right-hand side of the WiFi menu, you will see three vertical dots. If you click on them, you will see a drop-down menu.
4. Choose "WiFi Frequency Band" and select the frequency you prefer between 2.4GHz frequency and 5GHz frequency.
Conclusion:
This 5ghz WiFi upgrade is from the previous 802.11n. It is the newest technology in high-speed wireless Internet connection. It is capable of transmitting data at approximately 600 Mbps. 5ghz WiFi isn't just faster than 802.11n but also offers greater distance. Getting a 5GHZ WiFi router is an excellent idea if you're searching for a more powerful Internet connection and a more comprehensive range.
For a 5GHz WiFi network, your smartphone or another device must support 5GHz WiFi. If your device or phone isn't compatible with 5GHz WiFi, it won't be capable of connecting to a network running 5GHz.
We hope you enjoy our post about using 5Ghz WiFi with Android. With this information, we are sure that you'll be capable of enjoying a more efficient internet connection that is less cluttered, particularly when you're in a busy area.